June's Pro Stock Cars Keep the Heat On!
JHRC built Pro Stock cars keep the racing hot in Norwalk, June 23 - 26! Norwalk may have started off rainy but it ended with two sun filled days full of great Pro Stock racing. Saturday featured the K&N Horsepower Challenge where Mike Edwards took the Runner Up title with a great string of runs for the day. (Greg Anderson won the Challenge). Sunday saw another great day of racing in Pro Stock with Rookie Phenom, Vincent Nobile, picking up another Wally with his Mountain View Tire Dodge Avenger. Racing resumes in two weeks at Chicago's Route 66 Raceway event, held July 7 - 10.
June Racing Heats Up with the Spring into Summer!
The Jerry Haas Race Cars built cars have kept their winning ways into the summer season!
Success continued in Bristol with Mike Edwards getting the Wally in NHRA's Pro Stock final over Erica Enders during a rain soaked weekend. The race was held June 17-19 in the beautiful mountains of Tennessee and this is Mike's second win of the 2011 season.
Meanwhile, in a hot & steamy Topeka the same weekend as Bristol (June 17 & 18), the ADRL rolled into town to host another great event. The Extreme Pro Stock class was won by Scott Hintz in his fast blue Mustang while Lamar Swindoll Jr grabbed the Runner Up title in his fast, flat black Cavalier in the Extreme 10.5 class. The ADRL heads for Michigan's 131 Racway in July.
Hot Running Hot Rods In May!
Fast doorslammers built at Jerry Haas Race Cars have been dominating racing in May!
Success continued in Topeka, Kansas at the NHRA Summer Nationals with Mike Edwards taking the number 1 qualifiying spot in Pro Stock. Shane Gray worked his way through the field and captured the win in Pro Stock while Lou Ficco and David Billingsley fought it out in the final with Ficco taking home the Wally.
May started with wins at the NHRA O'Reilly National in Houston, Texas with drivers in both Pro Stock and Competition Eliminator taking home trophies. The sem-finals (Round 3) of Pro Stock featured three JHRC cars out of the four cars! Mike Edwards was beaten by eventual runner-up Rodger Brogdon and Vincent Nobile (below right) stole the show by winning his first race in his first year on the full tour! Chase Williams (below left) also battled a tough field in Comp to take home the win.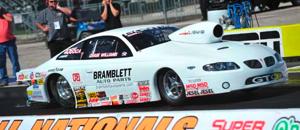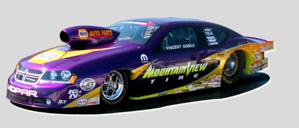 May 6th and 7th saw the ADRL making its debut at Maple Grove Raceway in Mohnton, Pennsylvania. JHRC cars continued the hot streak by running big numbers in cool conditions! Although the race was called before its finish due to a track curfew and delays from rainshowers earlier in the day, JHRC was represented very well! In the Extreme 10.5 class, Lamar Swindoll, Jr. was running strong all weekend and made it to the final eight cars. The two Pro Modified classes were well represented with Tommy Gray (below left) making in to the Pro Extreme semi-finals with his Undertaker GTO and Freddy Scriba (below middle) making it to the final in Pro Nitrous with his '63 split window Vette. Extreme Pro Stock's semi-final featured ALL FOUR cars being built by JHRC. Brian Gahm beat Tony Gillig on a hole shot while the Goforth family dueled with father Dean losing to son Cary (below right).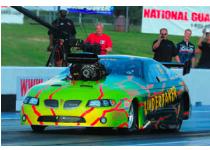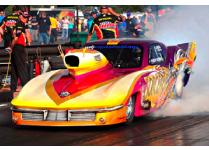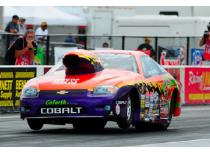 Congratulations to all!