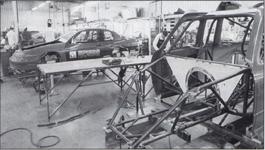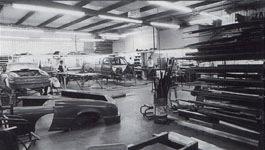 With an unprecedented 12 Car Craft Magazine All-Star Drag Racing Team Pro Stock Chassis Builder Awards that trace back to 1986, there is no chassis builder in the sport of drag racing that has received more recognition than Jerry Haas. His clients read like a who's who list for the quarter mile, including such luminaries as all-time winner Bob Glidden, the entire fleet of Roy Hill's Winners' School dorrslammer cars, ranging from Pro Stock to Super Gas, consist of Haas-built Fords. Hill also uses a Haas chassis, sans body parts, for his unique Chassis School.
Not only are Haas cars known for their unsurpassed craftsmanship, safety record and detailing, but Haas has built a reputation over the years for delivering his products on time. "We can usually put a car together in six weeks," said Haas. The only hangups that we've incurred have been from delays caused by outside vendors, but we've usually gotten around that by working extra hours."
A key element in Haas' success has been the fact that he keeps in touch with the latest innovations in racing by campaigning his own cars. He built and drove his own Pro Stockers from 1973 to 1995, when he switched to Comp Eliminator with Bob Phelps then-revolutionary A/A '63 CorvetteStingray that was always among the top of the qualifying leaders.
In 1997, Haas was hand-picked by Chevrolet to run a pair of Pro Stock Trucks along with engine builder John Lingenfelter during the category's exhibition introduction that year. While awaiting NHRA's formal announcement that Pro Stock Truck would be an official Pro Category for 1998, Haas received orders from anxious customers all over the country.
"Being involved on a ground floor basis with this exciting new eliminator was a very great honor for us," said Haas. " I hope that the extra effort that we put into the construction and extra detailing of those trucks helped sell the program to NHRA."
Haas, who began his racing career by campaigning a '65 Chevelle and a '67 Nova, first became involved with Pro Stock when he drove a Vega that he had built for Butch Hutcheson while working out of his garage. As his reputation grew, he decided to quit his regular job as a tool-and-die maker and constructed a 30-by-66-foot shop behind his house and hired one employee.
By the time that he had built a tube-chassied Pontiac Trans Am for John Hipple, business really began to pick up. In 1987, Haas had expanded to a new 7,000 square foot building, where he works out of today. He has since added an addtional 3,000 square feet of shop space and now employs a full staff of expert craftsman.
As mentioned earlier, Haas won his first Car Craft All-Star award in 1986, and has enjoyed the acclaim ever since. "Winning the first one was really great, and it just kept getting better after that. We were especially honored to have the award again at their banquet in early 1997 which the 30th Anniversary of the Car Craft All-Star Drag Racing Team."
Haas' state-of-the-art four-link rear suspensions and other major elements of his chassis design have evolved from years of on-the-job training. "The only formal schooling that I had was business management courses. All the work that we've done on cars has come from working with some of the greatest minds in drag racing, learning a lot from their experiences on the track and the valuable information that they've shared with us."
The many Haas products featured on this website represent an effort by Haas' part to make all the knowledge that he has gained over the years more accessible to the general racing public. "This came about with my decision to market our four-link rear suspensions in kit-form, and now we offer pretty much everything that one needs to build his own car."
An innovator ever since he began building race cars 30 years ago, Jerry Haas is intent on developing the newest and most effective forms of drag racing technology well into the next century.